New Year's Meal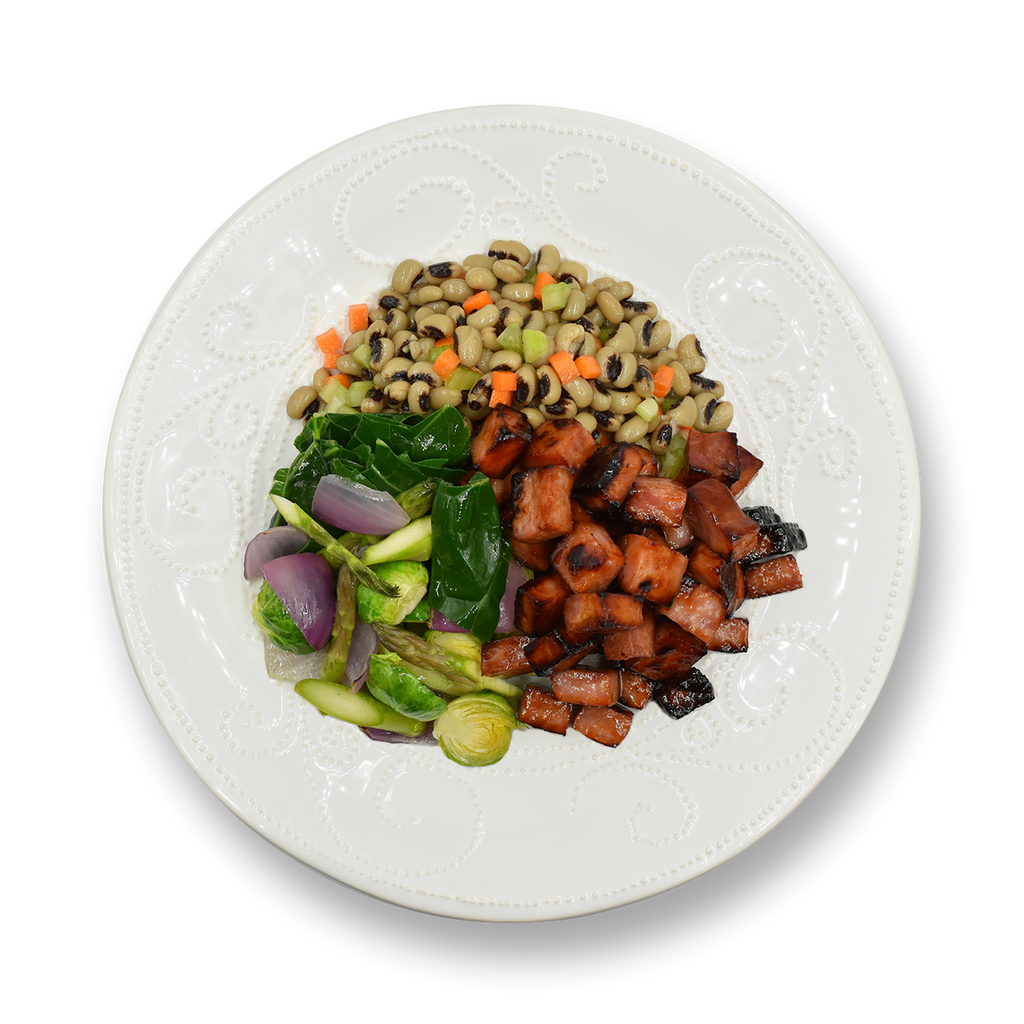 Product Description
This dish is made with glazed ham, honey, orange juice, coconut sugar, brown rice, olive oil, garlic, brussels sprouts, red onions, collards, black eyed peas, red onion, carrots, celery, salt, and pepper.
(Paleo dish does not contain black eyed peas or brown rice, and comes with butternut squash)
Family Size portions available - serves 4 'Healthy Balance' meals in an oven ready dish. Preheat to 350F, remove the lid, and re-heat for 15 minutes.
Nutrition Information (Per container):
Healthy Balance:
Calories: 407.3
Fat: 8.2g
Carb: 52.0g
Protein: 31.3g
Sodium: 319.0mg
Fiber: 8.5g
Sugar: 17.6g
Saturated Fat: 2.0g
Skinny:
Calories: 345.5
Fat: 6.6g
Carb: 46.6g
Protein: 24.9g
Sodium: 262.0mg
Fiber: 8.1g
Sugar: 17.5g
Saturated Fat: 1.6g
Arnold:
Calories: 449.3
Fat: 10.3g
Carb: 47.1g
Protein: 42.0g
Sodium: 379.0mg
Fiber: 6.8g
Sugar: 17.6g
Saturated Fat: 2.8g
Paleo:
Calories: 391.8
Fat: 9.2g
Carb: 39.6g
Protein: 37.7g
Sodium: 155.0mg
Fiber: 10.6g
Sugar: 21.0g
Saturated Fat: 2.3g
Super Arnold:
Calories: 814.5
Fat: 16.5g
Carb: 104.0g
Protein: 62.6g
Sodium: 638.0mg
Fiber: 17.1g
Sugar: 35.1g
Saturated Fat: 4.0g
Nutrition
Change Meal Type to view plan-specific macros
| | |
| --- | --- |
| Calories | 407.3 |
| Fat (g) | 8.2 |
| Carb (g) | 52.0 |
| Protein (g) | 31.3 |
| Sodium (mg) | 319 |
| Fiber (g) | 8.5 |
| Sugar (g) | 17.6 |
| Saturated Fat(g) | 2 |
| | |
| --- | --- |
| Calories | 345.5 |
| Fat (g) | 6.6 |
| Carb (g) | 47.1 |
| Protein (g) | 24.9 |
| Sodium (mg) | 262 |
| Fiber (g) | 8.1 |
| Sugar (g) | 17.5 |
| Saturated Fat(g) | 1.6 |
| | |
| --- | --- |
| Calories | 449.3 |
| Fat (g) | 10.3 |
| Carb (g) | 47.1 |
| Protein (g) | 42 |
| Sodium (mg) | 379 |
| Fiber (g) | 6.8 |
| Sugar (g) | 17.6 |
| Saturated Fat(g) | 2.8 |
| | |
| --- | --- |
| Calories | 391.8 |
| Fat (g) | 9.2 |
| Carb (g) | 39.6 |
| Protein (g) | 37.7 |
| Sodium (mg) | 155 |
| Fiber (g) | 10.6 |
| Sugar (g) | 21 |
| Saturated Fat(g) | 2.3 |
| | |
| --- | --- |
| Calories | 814.5 |
| Fat (g) | 16.5 |
| Carb (g) | 104 |
| Protein (g) | 62.6 |
| Sodium (mg) | 638 |
| Fiber (g) | 17.1 |
| Sugar (g) | 35.1 |
| Saturated Fat(g) | 4 |
v