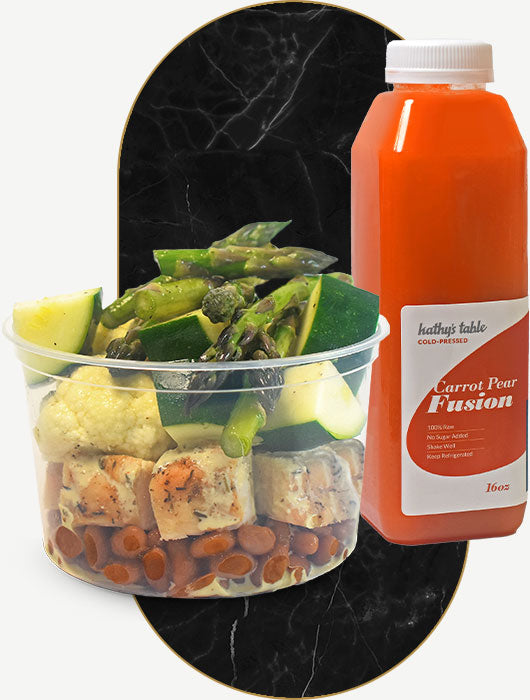 OUR ALL NEW

Seasonal Menu

We're always cooking up something new here at Kathy's Table. Our chefs work hard to create delightful dishes that satisfy every taste and lifestyle. While many of your favorite flavors will be present on the menu seasonally, new items are added every other week so check back often to see what's currently available. And of course, everything is gluten-free!
Á La Carte Ordering
---
• Meal Plans are delivered Mondays only
• A La Carte Orders are delivered Mondays and Thursdays
• Orders placed by 12 noon Tuesday are delivered Thursday
• Orders placed by 12 noon Friday are delivered Monday
Order Below »
Meal Plan Subscriptions
---
Try one of our weekly meal plans and you'll never have to worry about what's for lunch or dinner. Whether it's for every meal or supplementing your diet, our meal plans make eating healthy more convenient than ever.
Sign Up Today »
Regular price

Sale price

$8.75 USD

Unit price

per

Regular price

Sale price

$8.75 USD

Unit price

per

Regular price

Sale price

$9.00 USD

Unit price

per

Regular price

Sale price

$9.00 USD

Unit price

per

Regular price

Sale price

$9.00 USD

Unit price

per

Regular price

Sale price

$9.00 USD

Unit price

per

Regular price

Sale price

$8.50 USD

Unit price

per

Regular price

Sale price

$9.00 USD

Unit price

per

Regular price

From $8.90 USD

Regular price

Sale price

From $8.90 USD

Unit price

per

Regular price

From $8.90 USD

Regular price

Sale price

From $8.90 USD

Unit price

per

Regular price

From $8.90 USD

Regular price

Sale price

From $8.90 USD

Unit price

per

Regular price

From $8.90 USD

Regular price

Sale price

From $8.90 USD

Unit price

per

Regular price

From $9.00 USD

Regular price

Sale price

From $9.00 USD

Unit price

per

Regular price

From $8.90 USD

Regular price

Sale price

From $8.90 USD

Unit price

per

Regular price

From $9.40 USD

Regular price

Sale price

From $9.40 USD

Unit price

per

Regular price

From $9.40 USD

Regular price

Sale price

From $9.40 USD

Unit price

per

Regular price

From $8.90 USD

Regular price

Sale price

From $8.90 USD

Unit price

per

Regular price

Sale price

$8.99 USD

Unit price

per

Regular price

Sale price

$8.99 USD

Unit price

per

Regular price

Sale price

$8.99 USD

Unit price

per

Regular price

Sale price

$8.99 USD

Unit price

per

Regular price

Sale price

$4.25 USD

Unit price

per

Regular price

Sale price

$14.00 USD

Unit price

per

Regular price

Sale price

$8.00 USD

Unit price

per

Regular price

Sale price

$8.00 USD

Unit price

per

Regular price

Sale price

$8.00 USD

Unit price

per

Regular price

Sale price

$8.00 USD

Unit price

per

Regular price

Sale price

$8.50 USD

Unit price

per